Night at the Conservatory Lecture Series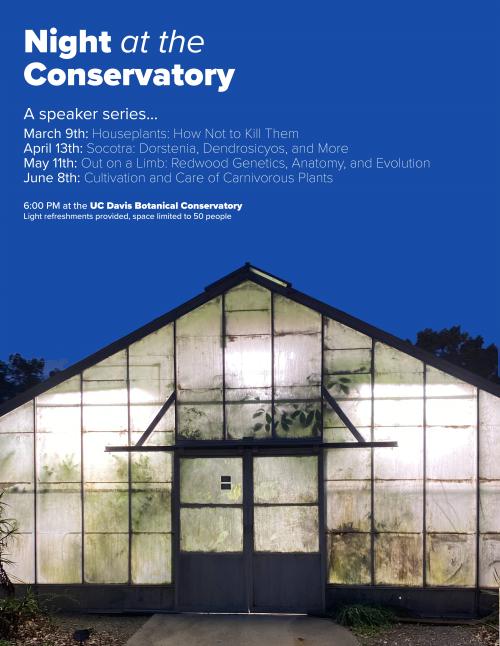 Join us at 6pm on the second Thursday for a plant related talk given from members of the conservatory community.
FREE! All are welcome to attend. Snacks and drinks will be provided however space is going to be limited, so try and come early.  Conservatory will be open for viewing.
March 9th

Houseplants: How Not to Kill Them
Marlene Simon - UC Davis Botanical Conservatory Horticulturalist

April 13th

Socotra: The Land of Dragons and Bottles… Dorstenia, Dendrosicyos and More
Gianluca Bacci - UC Davis Botanical Conservatory Succulent Lead

May 11th

Out on a Limb: Redwood Genetics, Anatomy, and Evolution
Zane Moore - Plant Biology PhD Candidate

June 8th

Cultivation and Care of Carnivorous Plants
Shawn Shumaker -

UC Davis Botanical Conservatory Carnivorous Plant Lead
Contact for more information: Marlene Simon